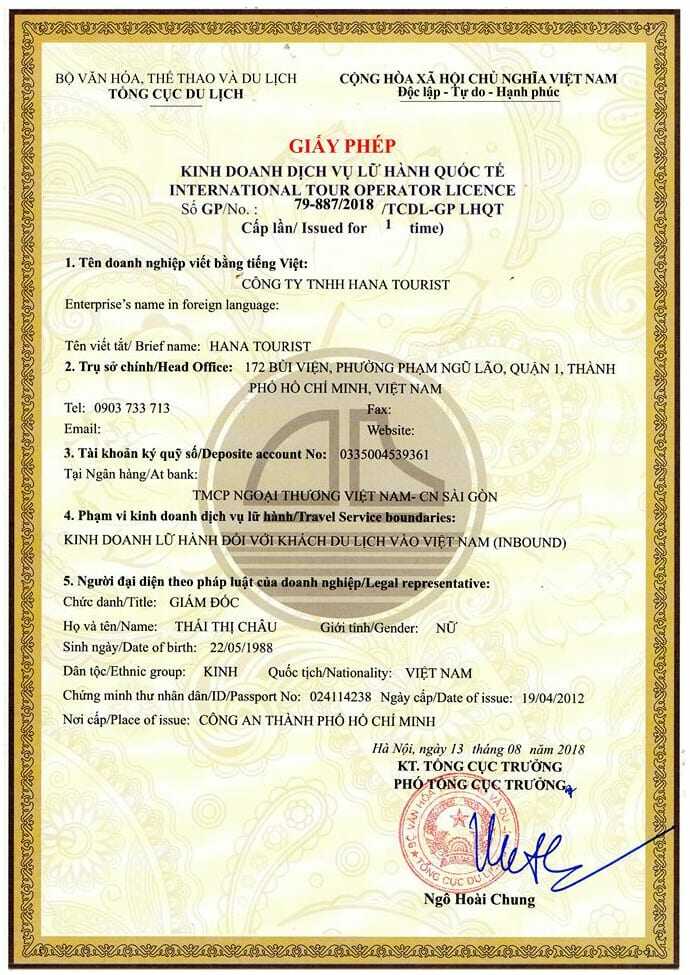 Under the Law of Vietnam, conducting an organized tour or recreational activity for profit on Vietnam territory is illegal without holding a tour operator license. This applies to all tour operators and activity providers, whether one-person operations or large companies.
A tour operator license defines the need for recognition/certification and registration to undertake the travel service and activity. When such an individual or company deals with foreign customers, an International Tour Operator Licence is a recognition that the operations comply with the market's highest social and environmental standards. Additionally, as public concern grows about scam traveling and tourism impacts, an International Tour Operator Licence provides a reasonable measure to protect customers and operators' benefits.
To be eligible for this International Tour Operator Licence, we must:
Have adequate public liability insurance with an insurer approved by the agency.
Ensure our tour guides have the latest guiding qualification (minimum standard requirements on language and knowledge skills).
Ensure procedures/services/tour programs etc., are in place to minimize the risk of potential hazards to clients.
Deposit our account at Vietnam State Bank with a value of 12,500 USD in the certificate duration to ensure such Licence holder's obligation and responsibility to services provided.
Bear in mind all the time that any failure to do such shall be investigated and withdrawn the certification immediately.
We, at Hana Tourist, proudly display here our International Tour Operator Licence and the certifying body that issued it. By doing that, Hana Tourist informs our customers and supply chain — that our business is operated with sound management that looks to the future and not merely today. We seek confirmation that sustainability practices are in place. Going with us, our luxury and regular travelers shall be free from low-quality servicing stress and headaches. Hana Tourist commits that our staff, tour guides, drivers, etc., are licensed personnel offering you safety and unforgettable moments.
For us, traveling is not just a job. It is a passion.